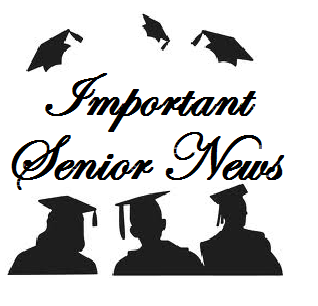 Financial Aid:
Deadline to submit your FAFSA or CA Dream Act is MARCH 2ND!
*Stop by the Library for assistance on submitting your financial aid application. Please be sure to bring your parents 2016 income tax returns. For further aid, see scholarship list.
College Boost Workshops:
Stop by the Library every Monday, Tuesday, Wednesday, Thursday from 2pm-3:30pm for help with College Applications, EOP Applications, UC Personal Insight Questions, Financial Aid and more! Your College Advisor, Counselors, and College Boost Mentors are available to assist and guide you through every step in achieving a higher education!
Graduation:
2018 Graduation ~ Garden Grove Stadium ~ Thursday, June 14, 2018 @ 7:30 p.m.
*Student Arrival Time: 6:30 p.m.
Important Dates to Remember...
9/8 - Fall Pep Rally @ Lunch

9/13 - Welcome Back Lobo Movie Night, 6-8 pm
9/13 UC Davis Presentation, 2pm-3pm P21
9/26 - College Info Night
10/4 - Back-to-School Night
10/4 UC Santa Cruz, 8am-9am, Library
10/4 UC San Diego, 2pm-3pm, P21
10/6 - Homecoming Assembly/Game
10/9-13 - College Spirit Week
10/11 - College Knowledge Day 1, 8-12
10/23-27 - Red Ribbon Week
10/25 UC Berkeley Presentation, 8am, P21
11/1 - College Knowledge Day 2
11/1-2 - Fall Drama Production
12/8 - Winter Pep Rally @ Lunch
12/21 - Winter Holiday Assembly
1/18 - Senior Family Night
2/8 - Winter Sports Assembly
2/13 Santa Ana College Placement Test, 12:30pm, LT
2/15 Golden West College Placement Test, 12:30pm, LT
3/2 - Spring Pep Rally @ Lunch
3/2 - Sadie Hawkins Dance
4/16-20 - Academic Challenge Week
4/19 - Spring Sports Assembly
5/18 - Faculty Variety Show
5/30 - College Decision Day
5/31 - Senior Awards Night
6/9 - Grad Nite @ Disneyland
6/13 - Senior Graduation Practice
6/15 - Senior Breakfast & Diploma Distribution